Located in Mid-City, New Orleans along busy North Broad Street, nestled between a Whole Foods and ReFresh Community Farm is Liberty's Kitchen. From the outside, it seems like a typical cafe. There is Starbucks coffee prepared by smiling baristas who call customers and their employers by the title of Mr. and Ms., and a menu that includes classic cafe cuisine and meals infused with seasonal New Orleans tastes.
But, behind the scenes are dedicated professionals and young adults alike working towards a common goal - transforming the lives of vulnerable New Orleans youth.
A slice of their mission statement reads, "We provide a path to bright and healthy futures through employability and life skills training and by providing freshly prepared, nutritious meals to school children."
According to The Data Center, as of 2014, 43.8% of New Orleans youth lived below the poverty line. Liberty's Kitchen's two main programs - Youth Development Program and School Nutrition Program - speak to this city-wide issue.
The Youth Development Program invites New Orleans youth who are between the ages 16 and 24 and who are out of work and out of school to engage in a sixteen-week program that culminates in an externship and often times a job within New Orleans' vibrant restaurant scene.
The program uses the cafe's food service-based business to teach and provide experiential learning to trainees while addressing the issues of health care, mental health, housing, GED completion, parenting issues and financial literacy. The staff, diverse in experience, is dedicated to providing emotional and logistical support with each step of the program.
Liberty's Kitchen graduates are thriving in their new jobs - working hard while gaining a new sense of self. Completing the program means that avoiding the pitfalls of poverty and standing on one's own two feet becomes an attainable reality.
I first met Nadja, a graduate of Liberty's Kitchen at Good Karma Cafe, a vegan-restaurant connected to Swan River Yoga.
"Mr. Harry was like so positive that he placed me in the right place," she said to me when we got to talking about the experience with her externship-turned-job.
Nadja is a 20-year-old Mississippi-native. She came to New Orleans a couple years back to attend Xavier University. After not doing so well, she returned to her childhood home - one room shared with her mother and two younger siblings. Recognizing that if she didn't make a change, she would regret it for the rest of her life, she boarded a train and returned to New Orleans with the goal of eventually re-enrolling in school and trying again.
"It was something that I was just doing for myself," shared Nadja about the hard conversation she had to have with herself before making the decision to return.
That was August 2015.
Her first few months back in the city were stagnant. With a little bit of money saved up, she found a hostel that allowed her to work for room and board. But, once realizing that she would never make money that way, she checked herself into Covenant House, a youth homeless shelter. The staff there were the ones who introduced her to Liberty's Kitchen.
She felt positive about the program after her first day. But, it was a phone call from a staff member, a push that made her feel appreciated and liked, that motivated her to return and continue with the program.
Nadja proved very successful in her externship and has found herself a permanent position at Good Karma Cafe as a prep cook. It is her first job. Recently, she returned to Liberty's Kitchen to ask for assistance in finding a second job. They connected her with another vegan restaurant who were happy to hire her, especially after receiving good reviews from Goshi, her boss and mentor from Good Karma Cafe.
I ended up spending a few days with Nadja, getting to know her home-life at the Covenant House, making the commute back from work (she rides her bike, but chose to walk parts of the route back with me), and seeing how the skills she learned at Liberty's Kitchen have taken shape in her daily life.
We walked through the French Quarter together (Covenant House sits at the edge of the famous New Orleans neighborhood) and went to the bank where she deposited the money she earns from her 5am shift. She showed me the grocery store she gets her money orders from, knowing that it is the only place in the Quarter where she won't pay a fee.
And, I stood with her as she paid her rent for the first time - a major accomplishment for someone who has never before received a weekly paycheck.
"If you don't save your money, you are going to be broke all the time and they [Liberty's Kitchen] give you reasons why you should save your money and then things you can do to save your money," Nadja told me. "They give you those lessons and they hope for you to take it in and apply it."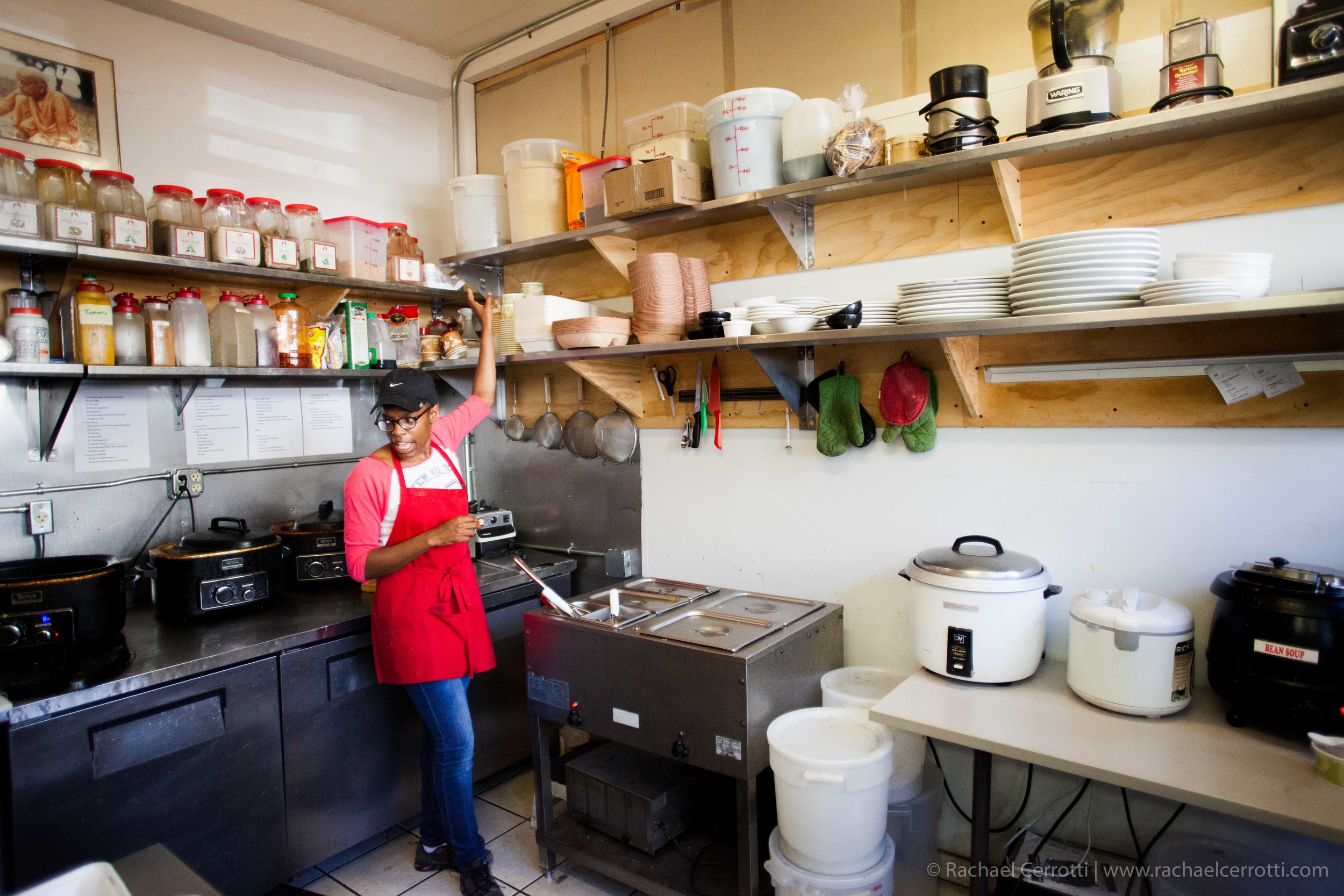 Nadja's recognition of the good that Liberty's Kitchen did for her life was matched by the other graduates who I met; each was smiling, feeling proud, at their own places of employment.
The Youth Development Program has an open admission policy and will take new participants whenever there is availability. The classes start with a large group, but often the numbers dwindle by the end. As Nadja expressed about her first day, "It was a good impression, but I was like, woah, this is a long time."
She went on to acknowledge that, "Once you stick it through, the rest of the program goes by super fast."
And for those trainees who choose to make the commitment, personal growth, occupational skills, and a path to financial stability is the light at the end of the tunnel.
The Youth Development Program ties right into the School Nutrition Program by providing the trainees with experience in a high production foodservice training and also by opening up employment opportunities for program graduates.
Liberty's Kitchen provides roughly 4,000 freshly-prepared and nutritious meals a day to low-income public school students in New Orleans. As of 2015, they provided over 1.5 million meals to local schoolchildren; 98% percent of those served qualify for free or reduced lunch.
I walked into Lawrence D. Crocker College Prep a bit after 11 in the morning on a Thursday. Groups of fourth grade students were chatting loudly with friends, stopping occasionally to take bites of their grilled chicken and salad (made with leafy greens, cucumbers, broccoli and cherry tomatoes). Soon after they filed out to recess, a younger class came in and lined up to get their fill of fresh food. With this group, their orange wedges seemed to be the favorite part of the meal. Every time I brought my camera to my eye, the students shouted in my direction to take their picture, then proceeded to flash a bright orange, citrus-flavored smile.
For many of these students, this may be their healthiest meal of the day. And the fact that it is provided in school is not to be taken for granted. Liberty's Kitchen takes pride in their partnership with New Orleans charter schools; they do their best to help eliminate lunches that contain high amounts of fat, sodium and refined sugars.
Since 2008, when Liberty's Kitchen was founded, hundreds of disconnected youth have had their lives transformed and even more than that have gained access to healthy food through local partnerships.
At the end of the four-month training, graduation comes and it is an event full of joy. Young individuals, who at the beginning didn't know what they were capable of, are handed a set of knives and a certificate, signifying their accomplishment. The next step for them is their externship and job placement. Family and friends, past graduates and current trainees look on, proud to be part of a community that is helping lift up one another.
All photographs © Rachael Cerrotti / April 2016
I traveled to New Orleans in April to partake in a Momenta Workshop, a photography workshop dedicated to training photographers in travel documentary and nonprofit storytelling. Many thanks to the staff at both Momenta and Liberty's Kitchen for giving me the opportunity to tell this story. And a special thank you to Nadja and the fellow graduates for their willingness to share a slice of their lives.